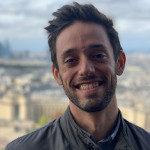 Sketching Tech is the personal blog of William Simoes.
It began as a personal project to archive notes, ideas and to implement new technologies in the evolution of digital transformation solutions, mainly SDN, Cloud and Automation.
In the same way that he has had information freely available, this page is intented to contribute back to the growth of the information available in the community.
Professional Experience
As a professional service and consulting engineer, he has wide experience in service provider, banking, and other large enterprise networks, helping engage, assess, design and deploy advance network solutions.